2011 Parade of Homes Kayenta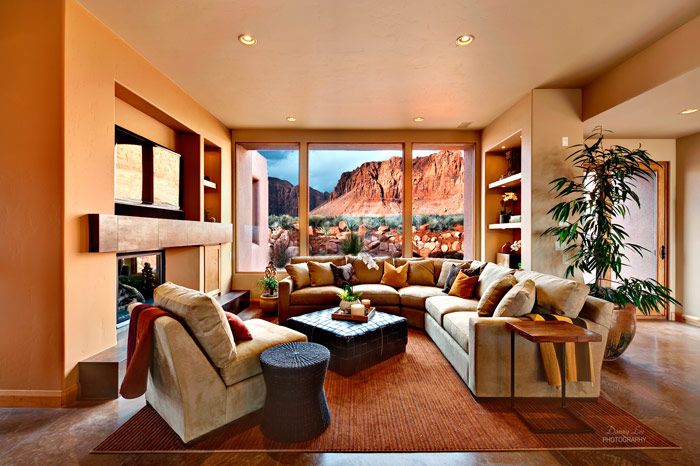 Kayenta is proud to announce its 2011 Parade of Homes entry – Terra Numa, built by J2 Construction. "Numa" is a Paiute word meaning "the People" and "Terra" the Latin word for earth or land. Roughly translated: Land of the People or People of the Land.
Located in the popular Shinava Trail area of Kayenta, Terra Numa features 360 degrees of flawless natural beauty and plenty of room to breathe. With an imaginative layout and thoughtful attention to detail, Terra Numa offers a warm and livable atmosphere both indoors and out. Economical and eco-friendly, Terra Numa is the third home in southern Utah to receive Green Build Certification from the National Association of Home Builders. Smart Green features include, polished concrete floors, multi-zoned climate control with energy recovery ventilation, LED illumination, and a hybrid foam/cellulose insulation system.
"Many visitors ask about the specific colors and materials used in the home" says Matt Marten the designer of the home – "So we are taking a survey, at the home, to see what people liked the most and to find out what they would like to know more about".
Over the next 10 days, Gulch Design Group and Kayenta will be posting information about the design and interior design of the home on the Kayenta Utah Blog. Check back to get more information and insight about Terra Numa and other design features in Kayenta homes.
According to Matt, inquiries about the paint colors are at the top of the list. Below is a list of the colors used in the home:
The paint colors are supplied by Kwal-Howells Paint. The home was painted in an Architectural Flat Latex.
Poco CL 2743M: The Main wall interior color including the ceilings
Catastrophe CL 1586a: Accent walls in the Guest Bedroom, also painted in the Great Room Niches
Stone Crop CL 2884: Master Bedroom Walls and Dining Room Feature Wall
Time Warp CL 2735: Accent painted on the Fireplace Wall in the Great Room