Cherry Creek Radio Interviews J2 Construction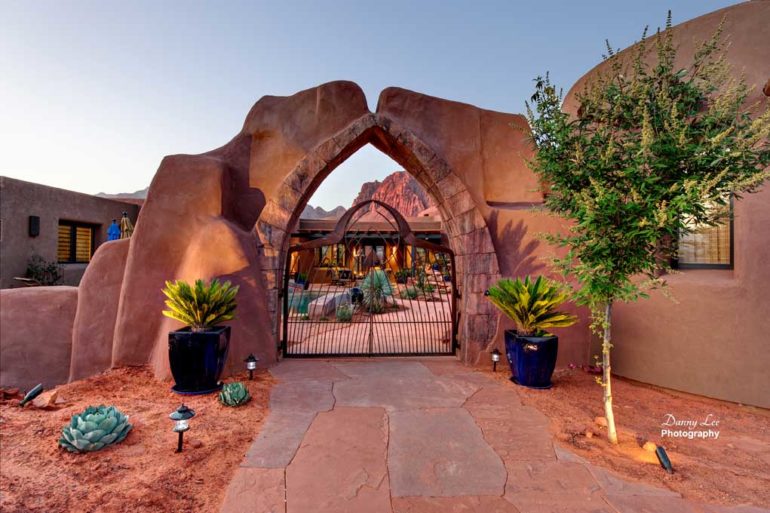 Cherry Creek Radio: J2 Construction LLC specializes in green building and won the 2008 Green Build Home of the Year Award from the Utah Home Builder's Association. J2 Construction's 2009 Parade Home is located in the spectacular Shinava Trail area of the Kayenta Development. Jake Joines, owner and operator of J2 Construction is here to explain green building and the services J2 offers to clients interested in building a green home.
Cherry Creek Radio: Jake, what is green building?
Jake: Green Building is the utilization of technologies that provide value to the client by way of energy conservation, indoor air quality, and resource conservation. Some building techniques are being called green technologies when if fact they are just detailed descriptions of how to construct a well built home. These are things like reducing air infiltration, properly installing a quality insulation, and sizing air conditioning and heating correctly.
Cherry Creek Radio: So building a green home is largely dependent on the knowledge and skills of the general contractor as well as the subcontractors. Where does the homeowner come in to the decision making process?
Jake: There are other technologies that require some additional explanation like photovoltaic solar panels, geo-thermal heating and cooling, or grey water reuse systems. I like to find out what is important to a client; are they concerned about air quality, do they want to save additional money on their monthly utility bills, or do they want to simply do their part to conserve natural resources. I like to educate and then ask clients how green they want to be. Part of the education process is going through a green building checklist and finding the items that are valuable to the home owner. I use the National Home Builders Association's green building guidelines.
Cherry Creek Radio: Is it more expensive to build green?
Jake: It really depends on the selections, many things can be done that actually save money, other technologies such as the geothermal systems and solar panels cost quite a bit up front, but once they are installed you may no longer have a utility bill. Once the important technologies are identified I obtain pricing for the entire project, including the other important stuff, cabinets, countertops, etc. I share all this information with the homeowner and they decide if the budget is acceptable or if it needs to be modified. I don't sign a contract until the homeowner is satisfied with their selections and the price.
Cherry Creek Radio: Can you tell us about some of the green features in this year's parade home?
Jake: Sure, Let's talk about energy efficiency. In the great room you can see these windows that are large and allow a great view of the plateau, these are low e windows that are great at keeping the temperatures outside from coming inside and visa versa, they are also on a North facing wall so as to minimize heat gain from the rising or setting sun. In terms of indoor air quality, the fireplace is a sealed combustion unit that draws its combustion air from outside. That keeps it from pulling combustion air from the house or exhausting into the air we breathe. The paint is a low VOC paint. VOC stands for volatile organic compounds. These are things that off gas over time and can be harmful to our respiratory system or might also be carcinogenic, they are probably not too good for the environment either. The floor is colored and waxed concrete. Minimizing carpet also helps with indoor air quality. Carpet and pad can off gas VOCs and also collects dust and dust mites. Additionally, by not adding additional flooring such as tile or wood to the concrete we are conserving resources and concrete is something that is a renewable and recyclable material.
Cherry Creek Radio: What about the kitchen are there green features there:
Jake: The appliances are energy star certified, that means they use less energy and less water which contributes to overall energy efficiency. The cabinets are built using a low-formaldehyde material as well as low VOC stains. And the exhaust system for the cooktop takes the exhaust from the cooktop and moisture from foods out of the house keeping toxins from accumulating in the indoor air.
Cherry Creek Radio: What is green in the bathrooms?
Jake: Low flow toilets and shower heads keep water from being wasted and the exhaust fan takes humid air out of the house to minimize problems with mold growth and excess moisture.
Cherry Creek Radio: What about the lot design, it looks like nothing was disturbed, your home was just placed in the desert's natural vegetation.
Jake: By minimizing disturbance of the existing terrain, energy and resources are conserved, water use is minimized and you can appreciate being a part of the topography and environment in which you live. A green home that is built to your specifications becomes a healthier more comfortable home for you to live in; it helps to conserve natural resources, and also saves you money as the cost of energy rises.
If you are interested in building a new home or remodeling an existing home please contact me for more information. Thank you.
Cherry Creek Radio: To contact or schedule an appointment with J2 Construction please send an email to [email protected] or call 435-673-4626