J2 Construction Receives 2009 Remodel Home of the Year Award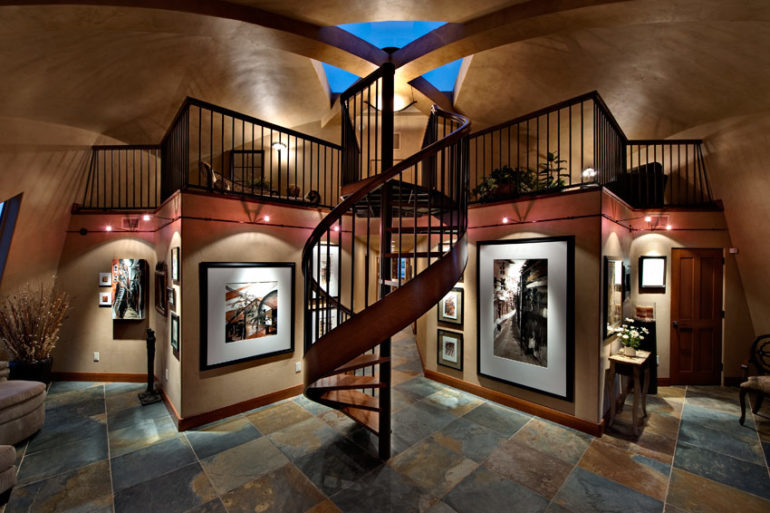 St. George, Utah, – Jake Joines, J2 Construction was awarded by the Home Builders Association of Utah the 2009 Remodel Home of the Year. There were 28 entries throughout the state that were submitted. The award was given out at the annual HBA of Utah Excellence Awards Gala held at the beginning of this year. The award is based on the customer testimonial in regard to their expectations, creativity in exterior design with consideration of existing surroundings, creativity and appeal of interior design and layout in comparison to previous plan and layout. In addition, implementation of plan design and function with the overall appeal of finishes, and unique features were considered.
Jake Joines and the Rio Virgin Dome project started over two years ago when the current homeowners purchased an existing concrete dome in St. George, Utah. This dome was built in 1980 as a prototype for environmentally friendly desert residences. The new homeowner's dream was to modernize the dome and make it the central feature to a highly energy efficient and technologically advanced home. With the modernization of the original structure, a three story addition was added onto the back of the dome. An elevator, enclosed within a glass shaft would service the master bedroom at the upper floor, the living area and kitchen on the main floor, and the recreation room at the walk out basement. Many energy efficient and green building features were included.
Congratulations to Jake Joines, J2 Construction, for receiving the 2009 Remodel Home of the Year Award. Jake is a General Building Contractor with a Construction Management degree from BYU and a master's degree in Construction Management from ASU.